Actions & Events
« Ceremony for Major Dwayne Kelley, 5-30-09: Part 1 | Home | Israeli-Palestinian Peace Forum 3-24-10 »
Be About Peace Day May 30, 2009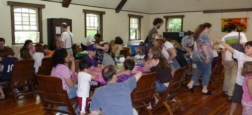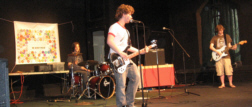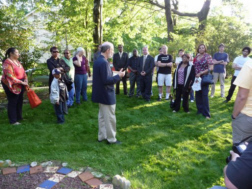 Click for SMPA Statement on Be About Peace Day, Posters and Proclamations by Maplewood and South Orange

Click for Photos of Be About Peace Day at the Burgdorff Center: 1 :: 2 :: 3 :: 4 :: 5 :: 6

Click for Photos of Ceremony for Major Dwayne Kelley: 1 :: 2
Click for Maplewood Online Video
of Be About Peace Day by Jamie Ross:


Statement by South Mountain Peace Action on Be About Peace Day 2009

This year, for the first time, we are celebrating Be About Peace Day with the end of the Iraq war in sight, our President having ordered all troops withdrawn over the next 31 months.

The tradition of an annual day for peace in Maplewood and South Orange was started in March 2005 by families who wanted to create a positive expression for peace, not only as an alternative to the war in Iraq, but as a core American and universal value.

As we carry on that tradition, we are mindful that while our country has begun a new direction toward peace, the fighting has not yet stopped, thousands of nuclear weapons remain poised for launch and military spending continues to grow and deprive our economy of vital resources for human needs and the environment. Our President's call for a nuclear-weapons-free world is a most timely challenge.

So on this fifth annual Be About Peace Day, South Mountain Peace Action welcomes our country's new direction and we look forward to new opportunities to raise peace issues in our community. We are more hopeful than ever that a new era of national and international security can be achieved, based on a strong national defense partnered with diplomacy, peaceful resolution of conflict, nuclear disarmament and a peace economy.

It is clearly a great time to "Be About Peace."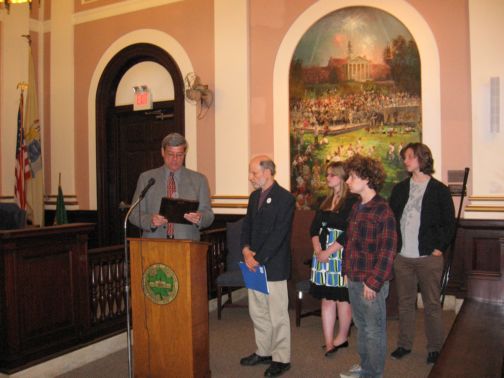 Maplewood Mayor Vic De Luca reads Be About Peace Day Proclamation on May 19, 2009. South Mountain Peace Action chair Paul Surovell, Columbia HS Peace Club president Carly Messigner and Be About Peace Day concert organizers Max Branigan and Gabriel Marr look on.
Photo by Adam Bulger. Click for additional photos and article on Maplewood Patch.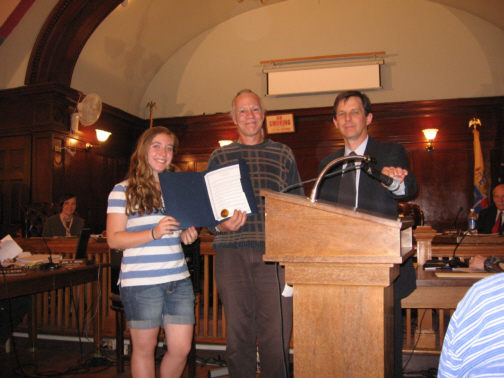 Ruby Scalera and Chris Black receive South Orange Proclamation from South Orange Village President Doug Newman.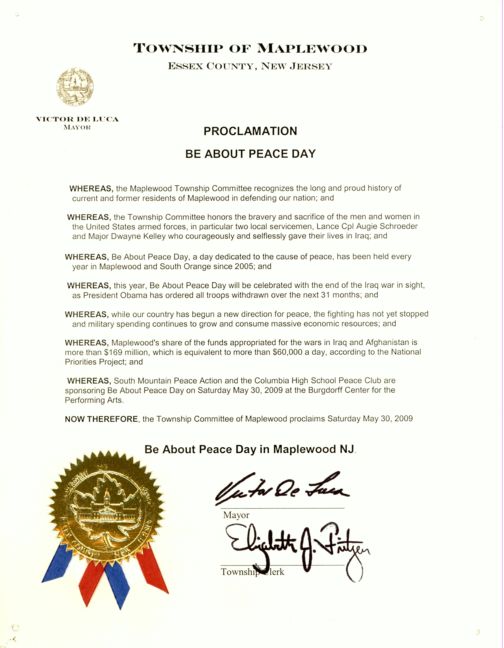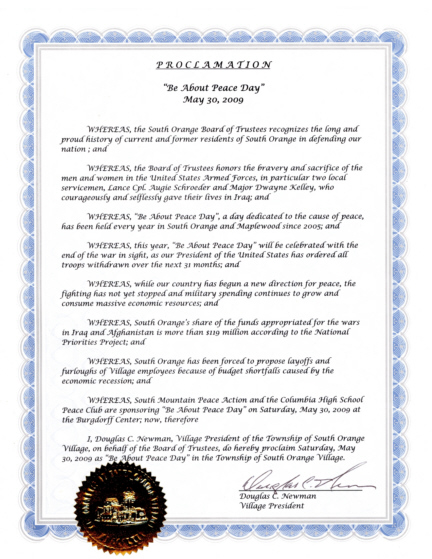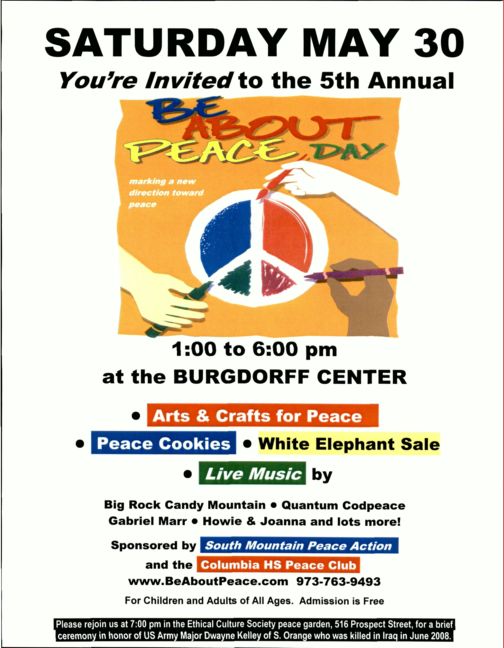 For PDF version of this flyer click here: Download file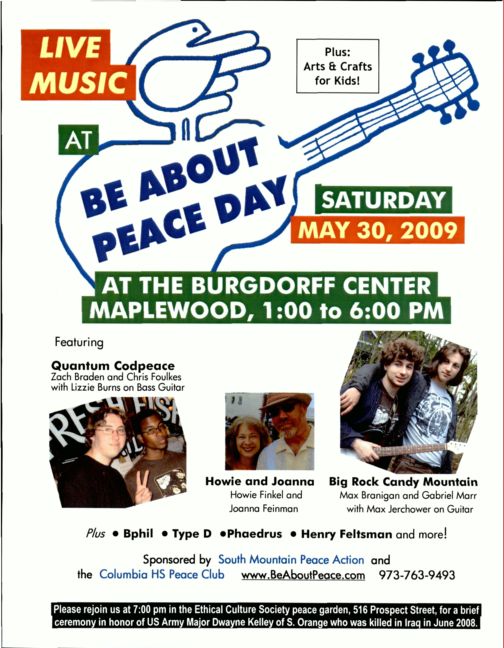 Click here for PDF poster: Download file
_________________________________
Click for article in the NY Times Local about Be About Peace Day by Chris Black.
__________________________________
Letter in News-Record of Maplewood and South Orange 5-28-09

A Celebration, A Ceremony and a Proclamation for Peace

by Paul Surovell

Be About Peace Day 2009 will include our traditional arts and crafts for peace for children as well as an all-afternoon concert on May 30th at the Burgdorff Center from 1:00 pm to 6:00 pm.

One more activity has been added that will conclude our day's activities. At 7:00 pm we will reconvene at the Ethical Culture Society peace garden to install a plaque honoring US Army Major Dwayne Kelley of South Orange who was killed in Iraq on June 24, 2008. Major Kelley's wife Manita will attend the ceremony. The Peace Garden is behind the Ethical building at 516 Prospect Street in Maplewood.

Dwayne Kelley, who was also a sergeant in the NJ State Troopers, led a remarkable life of good works, courage and sacrifice -- including the ultimate sacrifice -- to make the world better and safer for others. We hope our ceremony will inspire all to continue Dwayne's good works and to rededicate ourselves to the cause of peace. Major Kelley's plaque will be added to those of Lance Cpl. Augie Schroeder of South Orange who was killed in Iraq in August 2005 and Betty Duffey of South Orange, a long-time chairperson of South Mountain Peace Action, who died earlier in that year.

At its May 19th meeting, the Township Committee issued a Proclamation declaring May 30, 2009 Be About Peace Day in Maplewood. Joining me to receive the proclamation from Mayor De Luca were Carly Messinger, president of the Columbia HS Peace Club and Gabriel Marr and Max Branigan, the two Columbia High School musicians who are organizing the concert for Be About Peace Day at the Burgdorff Center.

Our Proclamation followed one for Emergency Services Week which was received by members of the Rescue Squad and Fire Department. It was humbling to follow citizens who daily engage in saving lives and in putting their own lives at risk for all of us.

The mission of South Mountain Peace Action is also about saving lives, but in a more indirect way. Our ceremony for Major Dwayne Kelley on May 30th at the Ethical Culture Society peace garden is a poignant reminder of this.

The two Proclamations symbolize what I said in my remarks at the podium -- that Maplewood is an exceptional town that provides opportunities for residents to take an active role in issues that are national and global nature, like the environment, social justice and peace, as well as on matters that affect daily life here in Maplewood, like the Rescue Squad. One of South Mountain Peace Action's goals is to make a connection between the two levels.

The Proclamation mentions one example -- that Maplewood's share of the cost of the wars in Iraq and Afghanistan is about $60,000 per day. That's more than the cost of a newly-hired Maplewood police officer for one year, a fact that puts Maplewood's layoffs and furloughs in a new perspective.

Next Wednesday, a similar Proclamation for Be About Peace Day will be issued by the South Orange Board of Trustees.

Please join us to celebrate Be About Peace Day at the Burgdorff from 1:00 to 6:00 pm and to honor Major Dwayne Kelley at 7:00 pm, on May 30, 2009. It's a great time to celebrate our country's new direction toward peace and to remind ourselves of the continuing need to support efforts for peace at the grass roots level.