Actions & Events
« SMPA Delegation Presents Petitions to Congressman Payne. | Home | Senator Lautenberg Responds to SMPA Petition »
SMPA Delegation Presents Petitions to Congressman Pascrell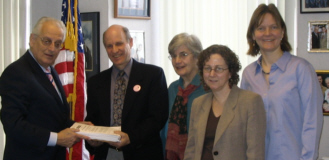 To view SMPA's four petition presentations click on:
Senator Corzine Senator Lautenberg

Congressman Payne Congressman Pascrell
On Thursday, March 31, 2005 an SMPA delegation of Ginny Brown, Cathy Casriel, Paul Surovell and Donez Xiques visited Congressman Bill Pascrell in his Paterson office and presented him with South Mountain Peace Action's petition, "SPEAK OUT AGAINST THE WAR IN IRAQ" with 1,304 signatures collected in South Orange and Maplewood.
Most of South Orange is in the 8th Congressional District which Pascrell represents.
The petition reads as follows:
_____________________


Letter from Citizens of
Maplewood and South Orange, NJ to:

Senators Corzine and Lautenberg,
Representatives Payne and Pascrell

We urge you to:

SPEAK OUT AGAINST THE WAR IN IRAQ.

Nearly 80% of Maplewood and South Orange voters and 52% of all New Jersey voters voted for John Kerry, who said forcefully that President Bush's war in Iraq is

"The Wrong War at the Wrong Time, in the Wrong Place."

The war has already cost (as of 12-04):

-- More than 1,300 American lives and 10,000 wounded
-- More than 100,000 Iraqi civilian lives (Johns Hopkins Medical School estimate)
-- More than $150 billion of taxpayer funds

Please end the silence in Congress and work for an international solution led by the United Nations and a rapid return home of US soldiers.
__________________________
The delegation thanked Congressman Pascrell for his statement that
the congratulatory resolution by Reps Hyde and DeLay in March 2004 was an example of "phony patriotism" which didn't address issues like the absence of weapons of mass destruction and the daily risks incurred by US soldiers.
Pascrell's Remarks on House Floor
The delegation also thanked the Congressman for signing a letter in January 2003 urging the President to allow the United Nations weapons inspections to continue.

Letter on UN Weapons Inspections
The delegation thanked Congressman Pascrell for his forceful defense of the Social Security system and noted that the United Nations, an institution which provides the basis for another kind of security, also needs to be defended against attacks from the same forces that seek to undermine the Social Security system.
The delegation asked the Congressman to read our petition into the Congressional Record and to consider becoming a co-sponsor of the Woolsey Resolution, which is consistent with the SMPA petition, as well as the January 27, 2005 speech by Senator Edward Kennedy.
Kennedy Speech January 27, 2005
With regard to the Woolsey resolution, the delegation offered a proposed amendment to the language of the resolution which we thought would make the resolution more clear and perhaps more attractive to members of the House as well as the public:
The amendment proposed by the delegation reads as follows:
Proposed amendments to Woolsey Resolution HR Con Res 35

by South Mountain Peace Action delegation delivering petitions
to Congressman Pascrell on March 31, 2005:

In "Resolved" section, change (1) to:

(1) immediately develop and implement a plan to begin the rapid withdrawal of United States Armed Forces from Iraq, consistent with provisions #2, #3 and #4 of this Resolution.

___________________________________

Also change (3) to:

(3) convene an emergency meeting of Iraq's leadership, Iraq's neighbors, the United Nations, and the Arab League to create an international peacekeeping force in Iraq that would replace United States Armed Forces in Iraq. These forces would remain in Iraq until the Iraqi police and Iraqi National Guard forces are able to ensure Iraq's security; and

____________________________________
The delegation gave Congressman Pascrell a South Mountain Peace Action "Be About Peace" sign (poster version) and T-shirt, an SMPA button and copies of the Maplewood Township Committee resolution against the war in 2003 and its Proclamation for Paul Surovell for his work for SMPA of February 2005.