Actions & Events
« SMPA Delegation Presents Petitions to Senator Lautenberg | Home | SMPA Delegation Presents Petitions to Congressman Pascrell »
SMPA Delegation Presents Petitions to Congressman Payne.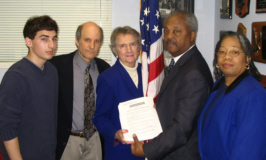 To view SMPA's four petition presentations click on:

Senator Corzine Senator Lautenberg

Congressman Payne Congressman Pascrell
On Monday, March 28, 2005 an SMPA delegation of Saundra Addison-Britto, Peggy Auer, Paul Surovell and Dan Symonds visited Congressman Donald Payne in his Newark office and presented him with South Mountain Peace Action's petition, "Speak Out Against the War in Iraq," with 1,304 signatures collected in South Orange and Maplewood.
Maplewood and parts of South Orange are in the 10th Congressional District which Pascrell represents.
The delegation thanked Congressman Payne for appearing at SMPA's March 19th Be About Peace Day event at the Ethical Culture Society, where the Congressman spoke and answered questions for more than an hour.
The delegation especially thanked Congressman Payne for his recent vote against $81 billion in appropriations for the Iraq war and occupation, and for his co-sponsorship of the Woolsey Resolution to develop a plan and begin to withdraw US forces from Iraq, in conjunction with the deployment of peace-keeping forces and a meeting of Iraqi leaders with the UN and the Arab League.
The delegation noted that the Woolsey Resolution was fully consistent with SMPA's petition, as well as Senator Kennedy's January 27th speech at Johns Hopkins University.
Kennedy Speech January 27, 2005
Congressmen Payne expressed appreciation for SMPA's petition and agreed to read it into the Congressional Record. He also agreed to speak at a public forum on Iraq in Irvington in May 2005.
Congressman Payne also offered to share SMPA's proposed amendment to the Woolsey Resolution, with the amendment's author, Rep. Lynn Woolsey.
____________________________

Proposed amendment to Woolsey Resolution HR Con Res 35

by South Mountain Peace Action delegation delivering petitions
to Congressman Pascrell on March 31, 2005:

In "Resolved" section, change (1) to:

(1) immediately develop and implement a plan to begin the rapid withdrawal of United States Armed Forces from Iraq, consistent with provisions #2, #3 and #4 of this Resolution.

______________________________
Before leaving, the delegation gave Congressman Payne a South Mountain Peace Action "Be About Peace" sign (poster version) and T-shirt, an SMPA button and copies of the Maplewood Township Committee resolution against the war in 2003 and its Proclamation for Paul Surovell for his work for SMPA of February 2005.