Actions & Events
« Support a Nuclear Agreement with Iran | Home
Senate Approves Iran Nuclear Deal!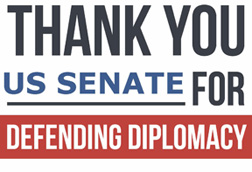 On Thursday September 10, 2015, the Senate voted to uphold the Iran nuclear deal by blocking a Republican effort to submit a bill to reject the deal.

Republicans needed 60 votes to move the bill forward, but they only got 58 votes because 40 Democrats and 2 independents voted No -- against "cloture" which ends debate and moves the bill to consideration by the Senate.

There will be no rejection by Congress and the deal will go into effect.

http://www.nytimes.com/2015/09/11/us/politics/iran-nuclear-deal-senate.html?_r=0
_________________________________
Rally in Maplewood Celebrates
Senate Approval of Iran Deal
Two hours after the Senate approved the Iran nuclear deal, South Mountain Peace Action held a rally to celebrate the deal's approval and to thank Senator Cory Booker and Representative Donald Payne, Jr., for supporting the deal.
Letter from Rep. Payne read at rally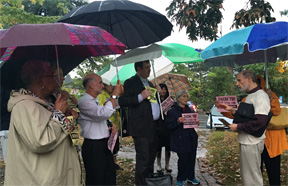 photo by Mary Gallagher
Here's the media coverage so far:
Village Green article:
Peace Groups Rally in the Rain
Maplewoodian video:
Rally video
______________________________________
SUPPORT THE IRAN NUCLEAR DEAL
Urge Our Representatives to Support the Deal:
Call Senator Menendez: (202) 224-4744
Email Senator Menendez here:
http://www.menendez.senate.gov/contact/?i=DEF
Call Senator Booker: (202) 224-3224
Email Senator Booker here:
http://www.booker.senate.gov/?p=contact
Call Congressman Payne: (202) 225-3436
Email Congressman Payne here:
http://payne.house.gov/contact/email-me
Critique of Senator Schumer's
Statement Opposing the Deal
Critique of Senator Menendez's Statement Opposing the Deal
Critique of Rabbi Boteach's Criticism of Senator Cory Booker's Endorsement of the Deal
Graphics below from:
https://www.whitehouse.gov/issues/foreign-policy/iran-deal