Actions & Events
« Be About Peace Day March 29, 2008 -- Photos-1 | Home | MoveOn Report on Recession
and Iraq War Delivered to NJ Senators »
Be About Peace Day, March 29, 2008

Be About Peace Day 2008
Program
Maplewood Memorial Library
Downstairs
1:00 pm to 5:00 pm
Arts and Crafts for Peace for All Ages
-- Wall-Hangers
-- Buttons (peace symbols, doves, make-your-own)
-- Flower-making
-- Native American Peace Prayer Ties
-- Beading
-- Tee-shirt painting
-- Face-painting
-- Silent Auction from 30 local businesses
-- Peace Cookies
-- Be About Peace T-shirts, lawn signs, magnets, buttons, note cards, DVDs
-- Color Posters by MoveOn "Invest in America Not War in Iraq"
-- Peace literature and petitions
Ethical Culture Society
516 Prospect Street, Maplewood
7:00 to 9:00 pm

Music and Community Forum
"A Peace Economy and the 2008 Elections"
-- Music by Maggie Kraus and Gabe Marr of Columbia High School and the Jaybirds
-- Congressman Donald Payne
-- Iris Bieri director of the Cost of the War Project of the American Friends Service Committee
-- Columbia University economics prof Dan O'Flaherty
-- Maplewood Vice Mayor Vic De Luca
-- Maplewood Deputy Mayor Fred Profeta
-- South Mountain Peace Action member Chris Black
-- Peace, Love, MapSO president Shayla Campbell
-- Moderated by Nkosi Anderson and Paul Surovell

Question & Answer Period / Refreshments

Both events free and open to the public.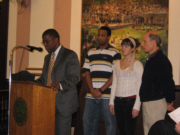 Maplewood Mayor Ken Pettis reads proclamation declaring March 29, 2008 Be About Peace Day in Maplewood. Looking on are Nkosi Anderson, Shayla Campbell and Paul Surovell, Be About Peace Day coordinators.




South Orange Village President Doug Newman reads Be About Peace Day Proclamation as Nkosi Anderson and Paul Surovell look on.