Actions & Events
« SMPA launches letter-writing campaign at NJ Senators in August 2007 | Home | Peace March in NY City October 27, 2007 »
Delegation Urges Senators to Take Leadership to End the War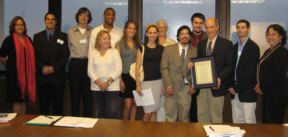 On September 26, 2007, a delegation from Maplewood and South Orange urged representatives of Senators Lautenberg and Menendez to stand firm and oppose any Iraq appropriations that do not have a binding timetable for withdrawal.
The group also urged the Senators to take a stronger leadership role among their colleagues to encourage Congress to use its constitutional powers to end the war, and to support diplomacy rather than military action to resolve differences with Iran. A plea was made for global peace and for using resources for human needs and the environment instead of war.
Click here for documents presented by the delegation to the Senators.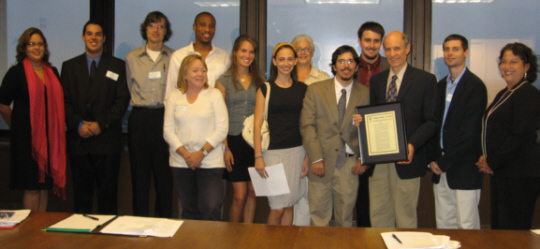 The delegation was organized by South Mountain Peace Action, the Seton Hall College Democrats and the Peace, Love MapSO Club of Columbia High School. Featured in the photo are (L-R) Desiree Ramos (Senator Menendez's rep), Walt Sampson (SHU), Dan O'Flaherty (Maplewood), Nkosi Anderson (South Orange), Pam Black (South Orange), Shayla Campbell (CHS), Laura Brett (CHS), Judi Kramer (Maplewood), Steve Spagnolo (SHU), Jayson Harpster (SHU), Paul Surovell (Maplewood), Tim O'Donnell (SHU) and Lisa Plevin (Senator Lautenberg's rep). Surovell is holding a floor statement by Senator Lautenberg commending South Mountain Peace Action.