Actions & Events
« Initiative for Peace in Iraq Announced at Be About Peace Day | Home | Mario Murillo Speaks at NJPA Annual Dinner April 30th »
Be About Peace Day Attended by Nearly 400



Nearly 400 parents and children paricipated in South Mountain Peace Action's second annual Be About Peace Day in Maplewood on March 18, 2006. The Star-Ledger reported the event in its March 19th edition as follows:


In Maplewood, several hundred people gathered in the public library for the second annual "Be About Peace Day."

Children sat at tables, penning letters to President Bush, assembling fabric patches for a peace quilt and tracing the Russian, Japanese and Sanskrit words for "Peace" onto T-shirts.

The political rhetoric was muted, which organizer Paul Surovell said was intentional.

"We're for peace. We're for changing our priorities. We don't get involved in name-calling or attacking anyone," Surovell said. "Iraq is in the back of everybody's minds, but this is about creating a peaceful world for children."

-- The Star-Ledger 3-19-06
Links to photos of Be About Peace Day activities:
General
Beading
Buttons
Cookies
Face-Painting
Letter-Writing
Music, Dance
Posters
Puppet Show
Quilting
T-Shirt Decorating
Wall Hangers
Part Two -- Rededication of Peace
Memorial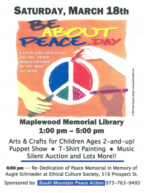 The Maplewood Library's Memorial Hall was filled with energy, creativity and expressions of peace from 1:00 to 5:00 pm. There were 7 crafts activities and a letter-writing table.







There was also a puppet show, silent auction and music.






At 6 pm the peace memorial at the Ethical Culture Society was rededicated to Marine LCPL Augie Schroeder, killed in Iraq in August 2005. Congressman Donald Payne participated in the ceremony, along with Maplewood Mayor Fred Profeta, Township Committee members Vic DeLuca and Kathy Leventhal, NJ Peace Action director Madelyn Hoffman, Ethical Culture president Terri Suess and Amanda Schroeder, sister of Augie Schroeder. SMPA announced a new Iraq peace initiative with Families of the Fallen for Change, an organization created by Augie's parents.