News & Opinion
« LA Times / Bloomberg Poll of Americans: 53% War Not Worth It | Main | Poll of Iraqis: 70% Want US Exit Timetable »
Al Levin, Fighter for Peace and Justice
Al Levin died in his sleep in Maplewood on February 13, 2006.
Al was an active member of South Mountain Peace Action for many years. He was always willing to contribute his time and energy to whatever was needed, whether it was standing in front of the Post Office or Starbucks with petitions or flyers in single-digit cold, going house-to-house with candidate surveys, sharing his ideas and wisdom at planning meetings, traveling to New York for a demonstration or speaking before the Maplewood Township Committee for a resolution against war in Iraq -- Al was always there for all of us.
The New York Times and the Star-Ledger have documented Al's celebrated career as newsman and documentary producer (see below).
Al Levin's brilliant insights, his commitment and energy and his generous and loving spirit will be deeply missed by everyone.
South Mountain Peace Action extends its deepest condolences to the Levin family. We will remember Al as part of our rededication of the Peace Memorial at the Ethical Culture Society on March 18th at 6:00 pm.
The Ethical Culture Society will hold a memorial for Al on Saturday, April 15, 2006 at 12:30 pm.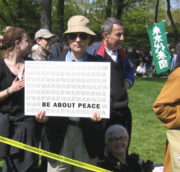 Al Levin with Paul Surovell and Judi Kramer at the
May 1st, 2005 demonstration in Central Park to Abolish Nuclear Weapons and End the War in Iraq.
Photo by
Mary Gallagher
_________________________
The Star-Ledger
http://www.nj.com/obituaries/ledger/index.ssf?/base/news-14/11400697319020.xml&coll=1
Alan M. Levin, 79, filmmaker of impact
Thursday, February 16, 2006
BY MATT ZOLLER SEITZ
Star-Ledger Staff
Alan M. Levin didn't just make movies. He made careers.
The 79-year-old Maplewood resident, who died in his sleep Monday at his home, was a documentary filmmaker whose long career was studded with milestones. These included the 1986 "Frontline" special "Inside the Jury," the first program to show jury deliberations; the WNET Channel 13 documentary series "The 51st State"; several HBO "America Undercover" documentaries made with his filmmaker son, Marc Levin, and a long collaboration with PBS' Bill Moyers.
But Mr. Levin was equally significant for mentoring three generations of younger filmmakers. Their ranks include Sheila Nevins, head of HBO's documentary unit, who got her start at WNET working with Mr. Levin.
"I knew Al from when I began in this business," said Nevins. "He was kind of an older peacenik, a gentleman bohemian, if that's not a contradiction in terms. For a lot of the young filmmakers who came of age in the '60s, he was a role model, and kind of the father we didn't have. There was nothing old about him."
"Al was responsible for my career as a filmmaker," said Alex Gibney, Oscar-nominated director of "Enron: The Smartest Guys in the Room," whose first documentary was produced by Mr. Levin. "Without him, I don't know where I'd be."
"To be jealous of younger filmmakers just didn't cross his mind," said Hart Perry, who worked with Mr. Levin on the early 1970s WNET series "The 51st State" and went on to photograph the Oscar-winning documentary "Harlan County, USA" for director Barbara Kopple. "He was full of life, and maybe that's why he connected with young people."
"Al Levin was a god to so many of us as younger filmmakers," said Kopple. "When nobody would return your phone calls, he would come and look at rough cuts. When I was down and out and nobody would fund me, I would call him up and he was always there for me."
Marc Levin called his father "forever young ... He would find out what younger filmmakers were working on and send them newspaper clips and suggest people they should interview ... He was the human Google. Whatever your interest was, he zeroed in on it and found information that encouraged you to go further."
Mr. Levin was born Feb. 26, 1928, in Brooklyn. He enlisted in the Army near the end of World War II, studied Japanese at Yale and worked as a translator at a prisoner of war camp in the Philippines.
After the war, he settled in New Jersey, became a labor organizer for the Jersey Central Railroad and married another former Brooklynite, Hannah Alexander, who worked at the Westinghouse factory in Plainfield and was a labor organizer there. The Levins settled in Elizabeth and had four children, Marc, Nicole, Danielle and Juliette, who accompanied them to the 1963 civil rights march on Washington.
In the 1960s, the Levins moved to Maplewood. Mrs. Levin got a degree in clinical psychology and later taught the subject as a professor at Rutgers University. Mr. Levin became a reporter for the Associated Press, covering the Statehouse, and then moved to the New York Post, where he was nominated for a Pulitzer for an investigative series about organized crime.
Following the newspaper strike of 1964-65, Mr. Levin left print media and became an assignment editor at WCBS Channel 2. He then moved to WABC Channel 7, where he would produce his first documentary, "Sleep: The Fantastic Third of Your Life," which won two local Emmys and launched his filmmaking career.
Mr. Levin helped Moyers, a former newspaper reporter and press secretary to President Lyndon B. Johnson, begin a second career as a documentary filmmaker and PBS host. Their 15-year collaboration produced many award-winning specials, including "The Secret Government: The Constitution in Crisis," and "Why Work?"
Mr. Levin also produced the Emmy-winning PBS series "The New Immigrants." In 1998, Mr. Levin won the Columbia-DuPont Silver Baton award for producing the Discovery Channel documentary "The CIA: America's Secret Warriors."
With his son, Mr. Levin won an Emmy for the "America Undercover" documentary "Thug Life in D.C." He also was featured on camera in several of Marc Levin's documentaries, including 2005's "The Protocols of Zion," about the notorious anti-Semitic book.
Mr. Levin's wife died in December 1998. He is survived by his four children, eight grandchildren, and two sisters, Helen Sacks and Sue Miller. The family planned a private ceremony.
_____________________________________
The New York Times
February 17, 2006
Alan M. Levin, 79, Documentarian of Social and Political Issues for TV, Dies
http://www.nytimes.com/2006/02/17/arts/television/17levin.html?_r=1&adxnnl=1&oref=slogin&adxnnlx=1140271229-QLZSLDSS44erdl9LcmK66w
February 17, 2006
By FELICIA R. LEE
Alan M. Levin, a documentary filmmaker whose work exploring political and social issues won major awards during a long career in television journalism, died on Monday at his home in Maplewood, N.J. He was 79.
Mr. Levin died in his sleep, his son Marc said.
Mr. Levin's work in the television industry began in the 1970's with PBS. He was one of the original news producers at WNET, New York's public television station, and in 1979 produced the Emmy-winning, six-part series "The New Immigrants," about the new wave of non-European immigrants.
He and Bill Moyers worked together on a number of award-winning programs, including "The Secret Government: The Constitution in Crisis," a history of covert C.I.A. operations leading up to the Iran-contra affair. The program won the national Emmy Award for news and documentary in 1988.
Mr. Levin also had a long collaboration with Sheila Nevins, the president of HBO's documentary division. With his son Marc, who is also a filmmaker, and their producing partner, Daphne Pinkerson, he made an HBO documentary "Thug Life," about incarcerated young black men in Washington, that won the 1999 National Emmy for outstanding nonfiction special.
Mr. Levin, a veteran of World War II who grew up in the Flatbush section of Brooklyn, sought to use television as an instrument for social change, his son said.
He was one of the first journalists to report on the rise of America's religious right, with the 1982 film "Portrait of an American Zealot." In 1986, "Inside the Jury Room," his program for the PBS "Frontline" series, captured the first jury deliberation ever recorded for television.
Mr. Levin's wife, Hannah Alexander, died in 1998. Besides his son Marc, of New York, he is survived by his daughters, Nicole Levin of New York, Danielle Levin of Yonkers and Juliette Blevins of Leipzig, Germany; two sisters, Helen Sacks of New Haven and Sue Miller of Great Neck, N.Y., and eight grandchildren.