Actions & Events
« Feb 8th Forum: "A Responsible Withdrawal from Iraq" Held | Home | Second Annual Be About Peace Day March 18th »
MoveOn Event for Constitution Feb 22d at
Maplewood, S Orange Train Stations
Help distribute MoveOn flyers against illegal wire-tapping and other violations of the Constitution at the Maplewood and South Orange train stations Wednesday Feb 22d during 6:00 am to 9:00 am.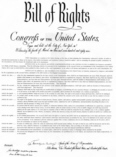 At the Maplewood and South Orange Train Stations

Wednesday February 22d
6:00 am to 9:00 am.

MoveOn event to demand Congressional hearings on President Bush's program of warrantless wiretapping of US citizens by the NSA.

We'll hold a brief vigil, read the Bill of Rights and then individuals can make personal statements if they wish. Then we'll distribute MoveOn and ACLU flyers to commuters going to work.
Please come for whatever time you can contribute. Call 973-763-9493 or email paul@beaboutpeace.com.
Or you can sign up for the events at:Maplewood or South Orange.
Click Here for MoveOn's message.