Actions & Events
« Fifth Annual NJ Peace Train Saturday Dec 3rd | Home | Feb 8th Forum: "A Responsible Withdrawal from Iraq" Held »
MoveOn Petition to Congress: Out of Iraq in 2006



"Congress must insist that America have an exit strategy from Iraq. We need a timeline that starts now and gets us out of Iraq in 2006."

South Mountain Peace Action members participated in petition deliveries to Congressmen Donald Payne and Bill Pascrell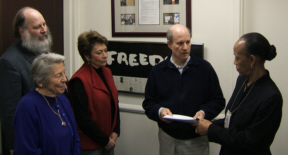 MoveOn petitions from New Jersey's 10th Congressional District delivered on 12-14-05 to Adrienne Sneed Byers, District Director, at Congressman Donald Payne's Newark office.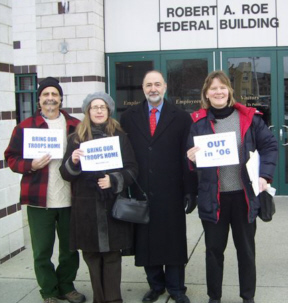 Outside Congressman William Pascrell's 8th Congressional District in Paterson after delivering MoveOn petitions on 12-14.

Signatures of more than 400,000 people were delivered to nearly 300 Congressional District offices across the country, including all 13 New Jersey CDs.