Actions & Events
« Scott Ritter Returns to Maplewood | Home | November 7, 2005:
Israelis & Palestinians for Peace: The Next Steps »
Vigil in Maplecrest Park for 2,000 Soldiers Killed in Iraq



On October 26, 2005, South Mountain Peace Action hosted a vigil in Maplecrest Park to honor and reflect on the 2,000 American soldiers killed in Iraq. The vigil was called by MoveOn and the American Friends Service Committee.
SMPA chair Paul Surovell pointed out that not only have 2,000 Americans been killed in the war and more than 15,000 incurred serious physical injuries, but more than 150,000 veterans have returned with serious psychological problems -- like migraine headaches and paranoia -- and serious medical problems -- like wounds that don't heal.

A moment of silence was held for the 2,000-plus American soldiers killed in the war. Another moment of silence was held for the 150,000-plus American veterans with serious injuries, wounds or psychological problems. A third moment of silence was held for all Iraqi men, women and children killed, injured or damaged psychologically by the war.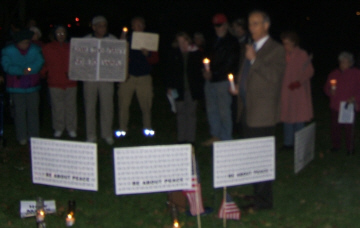 Maplewood Mayor Fred Profeta spoke of the need to continue working for peace. About half a dozen other attendees made personal statements, expressing grief over the American and Iraqi killed and wounded, and their conviction that the war must be ended.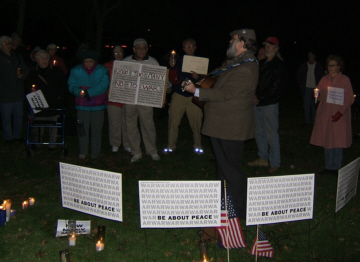 Maplewood attorney and folksinger Bennett Zurofsky led the vigilers in songs for peace.