News & Opinion
« Military Families Join Cindy Sheehan in Texas | Main |
Houston Chronicle Editorial on Cindy Sheehan »
Marine Lance Cpl Edward "Augie" Schroeder
Columbia High School Graduate
Killed in Iraq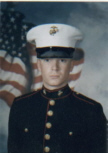 Left photo courtesy of Maplewood Online.

An AP story in the Akron Beacon reports:
Rosemary Palmer wouldn't let her son play with guns when he was little, and she certainly didn't want him involved in the military.
"He was persuaded that if he joined the Marines, he would get a new sense of purpose," said Palmer, who found out Wednesday that her 23-year-old son, Lance Cpl. Edward Schroeder, died in a roadside explosion.
Edward Schroeder spent his preschool years in China and then finished school in Maplewood, N.J. His family moved to Cleveland after he graduated from high school and started classes at Ohio State University.
The young Marine went to Iraq filled with optimism about the mission ahead, but he gradually became disillusioned with the war's progress, his father, Paul Schroeder, said.
"When you first get there, you think everything's hunky-dory," he said. "But after four operations, the insurgents were still there. He didn't think they were having any effect. I heard him and thought, 'Well, the bloom is off the rose.' I was opposed to this war before it even started, and my son is a sharp kid."
He quickly corrected himself.
"Was," he said, as sobs began to choke his words. "My son was a sharp kid.
"Oh, Jesus."
__________________________________

A memorial service for Augie Schroeder with the Schroeder/Palmer family is scheduled for 7:30 pm, Thursday August 11, 2005, at Morrow Memorial Church in Maplewood.
__________________________________

Community comments on Augie Schroeder's passing are being posted on Maplewood Online. Go to "Soapbox" and then the "All Politics" "South Orange" or "Virtual Cafe" sections
_______________________________