Actions & Events
« SMPA Delegation Presents Petitions to Congressman Pascrell | Home | Congressman Payne Cites SMPA
Congressman Pascrell Votes for Woolsey Amendment »
Senator Lautenberg Responds to SMPA Petition

SENATOR FRANK R. LAUTENBERG
STATEMENT ON SOUTH MOUNTAIN PEACE ACTION
On the Floor of the Senate, Monday, May 9, 2005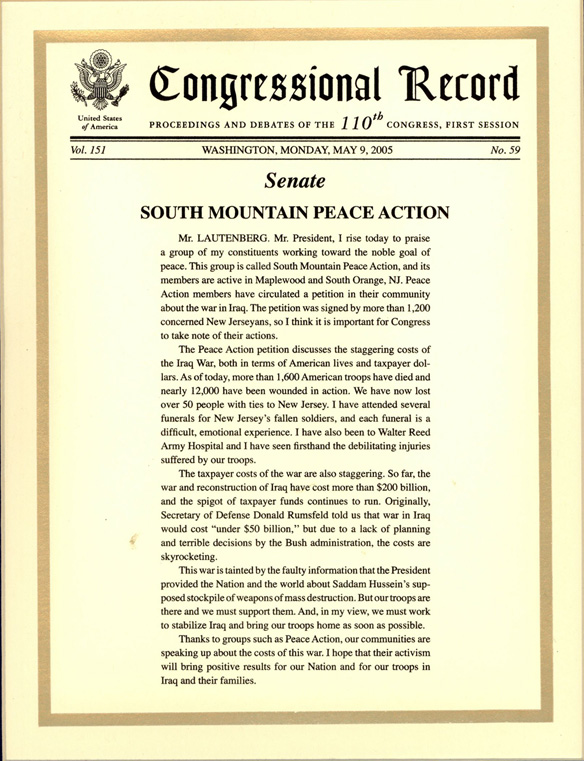 _________________________________________________________________
Mr. President:
I rise today to praise a group of my constituents working toward the noble goal of peace. This group is called South Mountain Peace Action, and its members are active in Maplewood and South Orange, New Jersey. Peace Action members have circulated a petition in their community about the war in Iraq. The petition was signed by more than 1,200 concerned New Jerseyans, so I think it is important for Congress to take note of their actions.
The Peace Action petition discusses the staggering costs of the Iraq War, both in terms of American lives and taxpayer dollars. As of today, more than 1,600 American troops have died and nearly 12,000 have been wounded in action. We have now lost over 50 people with ties to New Jersey. I have attended several funerals for New Jersey's fallen soldiers, and each funeral is a difficult, emotional experience. I have also been to Walter Reed Army Hospital and I have seen firsthand the debilitating injuries suffered by our troops.
The taxpayer costs of the war are also staggering. So far, the war and reconstruction of Iraq have cost more than $200 billion, and the spigot of taxpayer funds continues to run. Originally, Secretary of Defense Donald Rumsfeld told us that war in Iraq would cost "under $50 billion," but due to a lack of planning and terrible decisions by the Bush administration, the costs are skyrocketing.
This war is tainted by the faulty information that the President provided the nation and the world about Saddam Hussein's supposed stockpile of Weapons of Mass Destruction. But our troops are there and we must support them. And, in my view, we must work to stabilize Iraq and bring our troops home as soon as possible.
Thanks to groups such as Peace Action, our communities are speaking up about the costs of this war. I hope that their activism will bring positive results for our nation and for our troops in Iraq and their families.
I yield the floor.