Actions & Events
« Boe Meyerson on Dept of Peace Sunday April 3rd | Home | Sign MoveOn Petition to Demand Iraq Exit Strategy »
Email Senators for April Senate Debate on Exit Strategy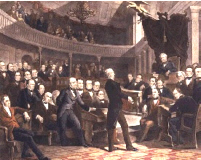 Please Email Senators Corzine and Lautenberg and Ask Them to Support a Senate Debate on April 6th on an Exit Plan for Iraq

Click Here to Email the Senators
Urge the Senate to Debate an Exit Strategy from Iraq on April 6th
The Council for a Liveable World is trying to encourage a debate in the US Senate on mandating an exit strategy from Iraq, and a commitment to no permanent US bases there.
Please note that one of our US Senators from New Jersey, Sen. Frank Lautenberg, is one of the six target Senators.
Just click on the link below and enter your zip code and you can easily send a suggested message to both your US Senators in one minute or less.
Call for an Exit Strategy from Iraq!
We need a way out of the quagmire.

Congress has scarcely debated the war in Iraq or its aftermath since Congress voted to authorize the use of force against Iraq in October 2002.
Urge your Senators to demand an exit strategy from Iraq.
Since that ill-advised Congressional vote, there have been more than 1,500 American soldiers killed, over $200 billion appropriated to pay for the war, Bush Administration lies to justify the invasion have been exposed, and countless disastrous mistakes in managing post-war Iraq have led to a string of prisoner abuse scandals, well-armed insurgents and continued estrangement from allies with whom we need to work to fight terrorism and the spread of weapons of mass destruction.
Yet Congress has remained silent on the war, refusing to debate its conduct or how to exit the country.
Republicans choose not to challenge their President; Democrats are nervous about national security issues in the wake of three straight election defeats and are reluctant to speak out.
It is time for Congress to begin a national debate over the continued war in Iraq and press for answers about how long the American occupation will continue.
ON APRIL 6, the Senate Appropriations Committee will begin consideration of the $82 billion Supplemental Appropriations bill to pay for the wars in Iraq and Afghanistan. We expect the same bill to be considered on the Senate floor soon thereafter.
We need a Senator to offer an amendment to the Supplemental Appropriations bill that does the following:
-- States a clear American policy that U.S. troops should return home as soon as possible;
-- Demands the President provide an exit strategy;
-- Pledges that the United States will not maintain permanent military bases in Iraq.
The following Senators should be especially encouraged to offer an amendment to the Supplemental Appropriations bill embodying these three principles:
Senator Edward Kennedy (D-Massachusetts)
Senator Robert Byrd (D-West Virginia)
Senator Patrick Leahy (D-Vermont)
Senator Frank Lautenberg (D-New Jersey)
Senator Dick Durbin (D-Illinois)
Senator Harry Reid (D-Nevada)
Please email these Senators and urge them to offer an amendment covering these principles.