Actions & Events
Home | Scott Ritter Speaks at Maplewood Library March 1, 2005 »
Maplewood Township Proclamation of February 1, 2005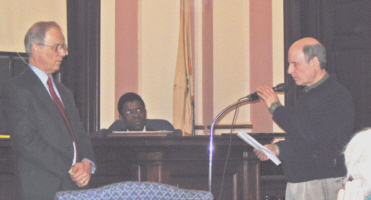 Township of Maplewood
Essex County, New Jersey
PROCLAMATION
WHEREAS, Paul Surovell is a New York City mathematics teacher who has lived with his family in Maplewood for 27 years; and
WHEREAS, Paul Surovell served in the United States Army as a medic from 1969 to 1971, following which he joined the Vietnam Veterans Against the War, that was also joined by Senator John Kerry; and
WHEREAS, Paul Surovell has devoted himself for decades to the promotion of peaceful solutions to international disputes; and
WHEREAS, Paul Surovell has pursued this goal locally through South Mountain Peace Action, supporting current efforts to bring a United Nations solution to the Iraqi War, which will allow United States troops to return home as soon as possible; and
WHEREAS, Paul Surovell has played a leadership role in the distribution of "Be About Peace" signs thoughout Maplewood, South Orange, and the larger region; and
WHEREAS, it is appropriate to recognize these efforts of Paul Surovell, who is the 2004 recipient of the Essex County Ethical Culture Society's coveted Sal Santaniello Humanitarian Award.
NOW, THEREFORE, I Fred R. Profeta Jr., Mayor of the Township of Maplewood, on behalf of the Township Committee, do hereby recognize
PAUL SUROVELL
with thanks for his efforts in effectuating peaceful solutions, in bringing positive community change, and in anticipation of his future efforts and dedication to the Township of Maplewood.
Fred R. Profeta, Jr.
Mayor
Elizabeth J. Fritzen
Township Clerk
- - - - - - - - - - - - - - - - - - - - - - - -
ACCEPTANCE REMARKS BY PAUL SUROVELL
I cannot tell you how much it means to me, and to our organization, to be recognized in this great hall by this body, which is the primary link, the fundamental connection between the citizenry and our democracy.
I proudly accept this award on behalf of the hundreds of members of our community who have dedicated their time and energy to humankind's most cherished goal -- the goal of peace.
I want to mention several of the many supporters of South Mountain Peace Action who have made my efforts possible. This list is too long, so I can only mention a few -- Betty Duffey, Mary Gallagher, Dan O'Flaherty, Theo Buklad, Nathalie Bailey, Cathy Casriel, Andrew Gyory and my wife, Judi Kramer. And I want to mention Bill Hildebrand who will be 90 in a week, and our late beloved Durward Branigan who gave so much for so many years. And most of all, I want to mention 12-year-old Jackson Roberts, whose elegant sign and message -- Be About Peace -- graces the lawns of so many homes in our community.
But -- and perhaps most important -- I also want to recognize those members of our community who share our commitment to peace, but who disagree with South Mountain Peace Action and our positions. Because what makes Maplewood truly wonderful and truly remarkable, is the absolute respect we show each other even when we disagree. A respect which is founded on our mutual reverence for democracy.
And so I want to stress that the honor I'm receiving tonight is about democracy as much as it is about peace.
Thank you very much for this award.